Imagine this scenario: it's the dead of July and your refrigerator decides it's time for a lil' nap. While your fridge is feeling lazy, you can't help but panic about the $300 worth of groceries you just purchased at Publix – especially those steaks you got to grill for the big birthday party. You understand how the Florida climate can swiftly sucker punch your plans and ruin your fresh food. You need a repairman to come out ASAP, but you're uncomfortable calling just any repair company. You want someone you can trust will get the job done efficiently and correctly.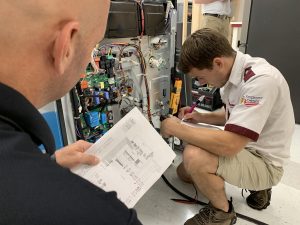 Who Should You Call?
When these panicky thoughts are racing through your head, take a breath and contact Home-Tech. Employee-Owned Home-Tech provides fast, emergency major appliance repair and AC repair services done by NATE certified, specially trained technicians. We stand out even more now thanks to our new and improved on-site 35' x 40' training room where technicians receive hands-on training before going out in the field to work on customer appliances. This cutting-edge, workshop-style area is filled with fully functioning home appliances, AC units, showers, toilets, and electrical systems. This means that technicians can train for appliance, AC, plumbing and electrical repairs, and installation. Whatever issue you have, a Home-Tech technician is specifically trained on how to fix it. We never subcontract and we're always professional and knowledgeable.
Technicians You Can Trust
From the very first day a new apprentice is hired, they are out in the field with a mentor. They gets hands-on training during the day, and is later assigned homework and online courses designed by Home-Tech to complete at night. The apprentice is with their mentor for 8-10 weeks until they're confident in doing AC maintenance, light service calls and/or installing appliance parts themselves.
Many of our technicians come to us looking for a career in the trades with little or no training. We build them from the ground up with an intensive training program where they are taught the correct way, the Home-Tech way, of diagnosing and repairing appliances and air conditioning.
It's reassuring to know that these newer technicians are never just thrown into the mix. Even once they've gone through proper instruction and hands-on training in the training room, technicians are provided with dedicated managers and mentors, and receive technical support while on the job. We also pride ourselves on requiring all technicians to become NATE certified. The North American Technician Excellence (NATE) is the nation's largest nonprofit certification organization for heating, ventilation, air conditioning and refrigeration (HVACR) technicians. NATE tests measure a technician's real-world working knowledge of HVACR systems. Home-Tech's technicians are held to a higher standard of providing quality service, installation, enhanced system performance, and energy efficiency.
We Put the Training Room to Good Use
The best part about our training program is that our technicians receive instruction in the training room all year long. So, even an experienced technician benefits from ongoing training as the technology and techniques used in the appliance industry are constantly evolving, so training is pertinent to success.
We want our employees to be the best of the best and to provide top notch "service that works" for all! Home-Tech President, Pam Marino, says it best, "keeping everyone on top of their game is a priority for us."