It can be rather frustrating when you have a freezer not freezing, especially because a freezer's only function is…well, keeping food frozen! When a home appliance isn't doing what it's supposed to, our first tendency is to want to kick the hunk of junk to the curb. But don't jump to conclusions too fast, because most freezer-related problems are repairable.
It should be noted that the common problems listed in this blog post only serve the purpose of easing your stress of trying to figure out what's happening to your beloved freezer. However, we recommend you have a Home-Tech technician come take a look ASAP if you think you're having any issues.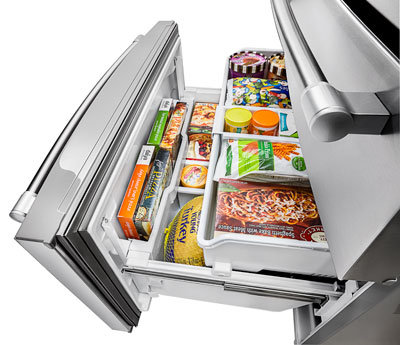 It doesn't matter if you have a refrigerator/freezer combination or a chest-style freezer; the cooling system of an electric freezer works the same across the board. Essentially, a freezer works by compressing, condensing and evaporating a refrigerant gas to absorb any heat out of the items being frozen. This is why it's very important for the freezer compartment to be well sealed. This makes sense because the coils continue to absorb warmth from the freezer compartment and dissipate it so that the temperature continues to drop until the compressor shuts off. Ineffective door seals cause warm air to sneak into the freezer compartment, which makes the compressor work harder and waste energy.
Why Is My Freezer Not Freezing?
Although terribly aggravating, having an issue with your freezer not freezing is rather common. There are three main reasons why you may be having this issue:
1. The Seal Is Broken
As previously mentioned, you may be having an issue with the door seal. The broken seal is allowing room temperature air into the freezer.
2. The Condenser Coils Are Dirty
The condenser coils could be dirty, which reduces the cooling capacity of the freezer. This may sound gross or unsanitary, but all this means is that there may be dust, dirt, pet hair, etc. stuck in the coils on the bottom of your refrigerator. Make sure your coils don't need dusted or vacuumed.
3. The Evaporator Fan Motor May Be Malfunctioning
Another plausible reason your freezer abandoned you is because the evaporator fan motor may be malfunctioning. This part is in charge of circulating air throughout the entire freezer, so it's very important. Make sure there aren't any obstructions preventing the fan blades from turning.
4. The Start Relay Isn't Working
The fourth and final reason you may be having this appliance predicament is if the start relay isn't working. The start relay gives power to the compressor, which is the heart of the refrigerant system.
Basic Maintenance Year Round
Let's say you've given Home-Tech a call and we solved the problem of your freezer not freezing. Now you're wondering what steps you can take to prevent this from happening again. Here are four suggestions for basic freezer maintenance:
1. Become familiar with the owner's manual for care instructions.
Let's be honest, most of us toss these papers out as soon as everything seems to be working fine – but they really are helpful. Keeping these instructions somewhere handy can prevent you from having a crisis in the future.
2. Clean the Interior Twice a Year
This step is so simple, but many people don't do it! Move all your food from the freezer to a cooler and wipe down the walls and shelves with a wet rag and dish soap. Make sure there's no soap left on the walls and that you let the freezer dry completely before putting your food back in. To keep the interior smelling fresh and clean, place an opened box of baking soda inside the door.
3. Vacuum or Dust the Condenser Coils Once a Year
This was also listed as one of the common problems with your freezer, so this suggestion is preventative. You may need to move your unit if your coils are in the back. If they're in the front, just snap off the lower grill and vacuum or dust off any dirt.
4. Maintain the Proper Temperature
If you're not sure what the temperature of your freezer is currently, leave a thermometer in a cup of vegetable oil overnight. For reference, your freezer should be 0 degrees Fahrenheit. You can adjust the temperature accordingly.
If you feel like you've tried all you could and there's still something going on, contact us to request a repair or find a replacement. If you want to be on the safe side, you can get a Gold or Silver Service Agreement. This home warranty agreement will take the stress out of appliance and A/C upkeep and allow you to budget for these common problems.