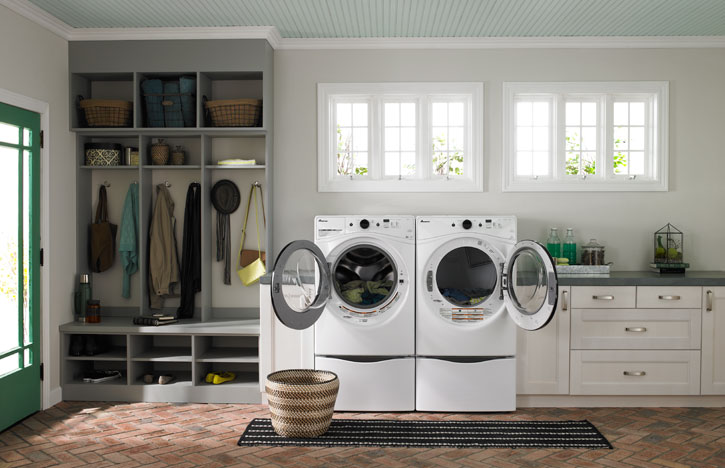 The worst feeling is when you come home after a long day at work and realize something broke while you were gone. The worst is finding out your dryer isn't heating after just wanting to hop into bed with warm, clean sheets. Instead of a relaxing night, you now have damp sheets, a dryer that isn't heating and less time to sleep. You're not happy, and we don't blame you one bit.
If it's too late in the evening, you may just want to contact Home-Tech in the morning. If you're part of the lucky bunch that has some time to mess with the dryer, this post is for you! Although our main suggestion will always be to trust the technicians at Home-Tech, we understand that sometimes you want to rule out it being a quick fix before calling on the experts.
My Dryer Isn't Heating! Are There Any Easy Fixes?
 There are a handful of reasons why your dryer isn't heating. Some are more complicated and definitely require someone who knows what they're doing, but others are pretty straightforward. Here are some common, super simple reasons why your dryer isn't drying:
Your Dryer Isn't Plugged In
It may seem silly, but you'd be surprised at how easily a plug can slip out of the socket. Check this first to avoid a major headache!
The Dryer Door Isn't Shut All the Way
Slamming the door shut with your foot as your hands are full with your other load of laundry may be causing you this issue. Push the door closed a little harder to make sure your door isn't just sticking and letting room temperature air in your dryer when it's supposed to be getting hot.
The Heating Element is Blocked With Debris
When the dryer vent, lint trap or lint screen is blocking the heating element, it causes your dryer to overheat and shut down. It's important to clean these parts often. If you're afraid there's an ongoing issue with any of these parts, call us ASAP because it can be a potential fire hazard.
The Dryer Vent is Clogged or Pinched Between the Dryer and the Wall
Are your sheets coming out hot but still damp? This may be your issue. Please note that if your vent exhaust is on your roof, you may need to call a dryer vent cleaning company.
For Gas Dryers: There's No Gas Flow
It's more common than you think for the owner of a gas dryer to forget to pay that bill. Check that you've paid that bill and that the gas valve connected to the dryer is on.
For Electric Dryers: There's a Tripped Circuit Breaker in Your Electrical Panel
Reset your panel
because one tripped panel can make all the difference between a hot dryer and an ice cold one.
Call in the Professionals
While there are some easy fixes to a dryer on the fritz, many issues are not safe for you to solve on your own. Before making any changes to your dryer configuration, it's important to note that your dryer is connected to either electric or gas (it's safer work for a trained technician). If the easy fixes don't seem to be working, you may have a bigger problem at hand. Let us help you have some peace of mind and get to bed sooner by solving these more complex problems:
A faulty thermal fuse
A broken heating element
A broken thermostat
A defective timer motor
A complex electrical or gas issue
Have an Appliance That's Always Causing Issues?
If you're always struggling with appliance repairs, it may be time for you to get a Home-Tech Service Agreement. This home warranty agreement will take the stress out of appliance and A/C upkeep and allow you to budget for these common problems. There's a few different options when it comes to choosing which agreement is best for your needs, so call us at 800-800-8356 or fill out our online request to learn more.