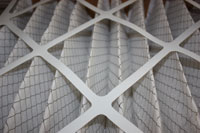 Did you know that indoor air pollution is among the top five environmental health risks? So then why aren't indoor comfort systems stressed upon more? Well, unlike cooling, heating and air distribution, it's difficult to measure the benefits of air quality. You may not realize how important indoor air quality is, which is why I'm here to tell you how an
air filtering system
can benefit you and which ones Home-Tech recommends.
Pet Dander and Dust Mites and Allergens, Oh My!
Think about all the little things you do each day. Maybe you use cologne/perfume, brush your pet, sweep your kitchen and cough or sneeze a couple times. These actions may not seem like a lot, but the products of these actions really add up. Most tasks or functions release something into the air, even if you can't see it. However, most homeowners replace their disposable air conditioning filter with a cheap one purchased from their local hardware store. What people don't realize is how necessary a good filter is for your health and overall comfort. Quality filters keep the fumes, pet hair, dust particles and germs from recycling back into the air you breathe.   
Filter Ratings
In the past, indoor air quality has mostly been emphasized to individuals with asthma or allergies. However, it's recently been appreciated by all individuals for keeping the germs and yucky air particles out of our airways. Now that you know this information, you may be wondering how to choose an efficient filter.
The Minimal Efficiency Reporting Value or "MERV" rating compares filter efficiency on a scale from 1-20. The higher the MERV rating, the more efficient the filter is at trapping airborne particles. The experts at Home-Tech have created a guide so you can better understand the types of filters that are available to you.
BEST
Electronic Air Cleaners
Centralized system filter

Removes microscopic impurities

A "must" for allergy or asthma sufferers

Must be professionally cleaned annually

Located at air handler unit
Recommended Indoor Air Purification Systems
REME HALO® Whole Home In-Duct Air Purifier
Dual ionizers to reduce airborne particulates (dust, dander, pollen, mold spores)
Kills up to 99% of bacteria, mold and viruses
REME® reduces sneeze germs by 99% in the time a sneeze can reach three feet.
New zinc ions kill 99% of viruses on surfaces
Unlike portable units that are limited to the room in which they are placed, the REME HALO® provides whole home and building purification
Easily integrated with your existing HVAC system. The unit doesn't take away living space and operates silently
Two (2) quick release features for easy, no tool, cell replacement
Incorporates an adjustable shroud around the REME® cell, which allows customization of the advanced oxidation plasma output
RGFClear Sky DM®
Easy Installation (no tools required, magnetic mounting)
Low voltage 24 VAC 50/60Hz input
Designed for use within HVAC systems up to 2,400 CFM or 6 tons
MAINTENANCE FREE – Continuous sonic self-cleaning ion emitters
Very low energy consumption (only 1 watt)
Reduces Bacteria, Molds, and Viruses
Reduces Odors and Particulates
Whole House Quad-Polar Ionization Unit
Improves Indoor Air Quality (IAQ) of treated spaces
Tech Pure® Germicidal UV Air Purification
Neutralizes pathogens, viruses, bacteria, mildew and mold
Operates continually 24/7 disinfecting cooling coils, drain pans and duct surfaces
100% ozone free
New, extended-life, 18,000-hr UV lamp
Parabolic reflector lamp shield
Water resistant lamp connections
Custom magnetic bracket offers remote mount capability
Quick disconnect lamp connection enable easy lamp replacement
Regarding COVID-19
RGF is known for manufacturing over 500 environmental products and providing the world with the safest air without the use of chemicals. Because of this, there's been an influx of questions regarding RGF® PHI-Cell® and REME HALO® Technology's impact on Novel Coronavirus. Home-Tech has highlighted some of RGF's most frequently asked questions regarding their COVID-19 developments, which you can read more in depth on their website.
Neither RGF's PHI-Cell® nor REME HALO® has testing specifically on COVID-19, because there are a limited number of facilities available for testing. They are evaluating different testing options with partners in the U.S. and China, but understand the priority for testing is placed on human outbreaks. Because of this, RGF® does not have testing specifically on COVID-19, but they've validated test results showing 99+% reductions on similar viruses.
It should be noted, however, that many hospitals have approved and installed PHI-Cell® and REME HALO® products throughout their facilities. RGF-BioControls® is designed and proven to reduce risks associated with airborne infectious pathogens like COVID-19 in hospital settings.
"This virus apparently is similar to other viruses that we previously tested. There is every reason to believe that RGF technologies would be effective in reduction of COVID-19." – Dr. Marsden (KSU)
Contact Home-Tech Today
Home-Tech offers a variety of indoor air purification systems, so you can choose which one is right for your needs! Breathing in clean air is very important, especially nowadays. Contact us to request more information about an indoor air purification system.