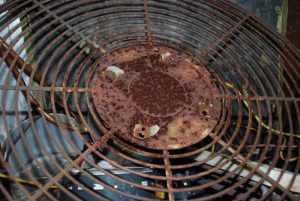 Your HVAC system is designed to be outside and withstand the elements. However, living in Southwest Florida, rust and corrosion are more prevalent and can affect your AC system more than it can in other areas. It's been studied and noted that the four main causes of rust are moisture, high temperatures, winter weather (actually due to the salt used to melt ice), and acid rain. Well, guess what? Florida has three of those four things! The humidity, abnormally hot weather and salt in the air make the perfect storm for rust.
Why is Rust So Bad?
You may look at rust and think it's just a little discoloration that can easily wipe off. But the truth is, rust turns into corrosion quickly. If the parts of your AC system corrode, you could be looking at a very costly repair, or even replacement. There's a lot of emphasis placed on not letting your condenser coils inside of your system rust, because it can impact the AC function and eventually shut your system down.
As moisture seeps into the system, different parts can become impacted when the water accumulates. The outside parts of your system are often the ones you think of most because you can actually see them, but the parts inside can also be affected by rust and corrosion. The compressors, fan blades, evaporator coils, condenser coils, drain pan and ductwork all play integral parts in cooling your home. If one is harmed, chances are the rest are soon to follow. So, what can you do to prevent it and what do you do if it's already affecting your system?
How to Prevent Rust and Corrosion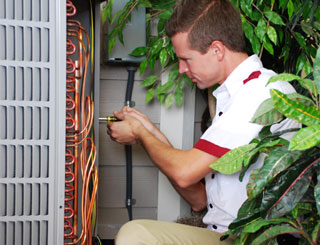 First and foremost, we suggest scheduling an annual AC Clean & Check to be sure your system is performing at its best. With a Home-Tech Service Agreement, you get one complimentary Clean & Check each year. If a technician spots the beginning stages of rust and corrosion, they'll be able to act on it before it becomes a complicated and expensive repair.
To ensure all rust and corrosion, as well as other issues are prevented and discovered if already present, Home-Tech completes this checklist during an AC Clean & Check:
General check in to address any concerns you may be having with your system
Change the AC filter
Check the thermostat for calibration settings and recalibrate, if needed
Check and clean the evaporator coil
Flush the drain line and add an algaecide tablet to prevent algae build up in your drain
Compare the temperature of the air handler's input and output to reveal the efficiency level of your system
Examine the condenser unit to check the running pressures of the heat transfers and power consumption
Check all electrical components and connections
Check and clean the condenser coil
Ensure the heating system is functioning properly
What if I've Already Found Rust and Corrosion?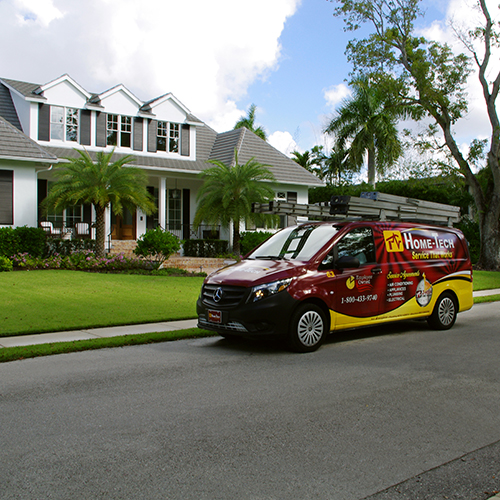 If you personally spot rust and corrosion happening, we always recommend calling in an expert. However, with a degreasing solution, nylon brush and sandpaper, you may be able to remove the rust yourself. After removing the initial rust, you'll want to coat the area with rust-proof primer and paint to prevent it from happening again.
The problem with doing it yourself is that the rust and corrosion can also be in the inside of the system or on the other important parts mentioned above. Missing these interior spots is just as important, if not more important, as removing the visible corrosion on top of the system.
Schedule Today
Now that you know what we do and how we do it, keep Home-Tech in mind for your air conditioning maintenance needs. Home-Tech is available seven days a week and provides service by a qualified, NATE-certified, background checked and drug tested technician.
Our Service Agreement Members can add the Equipment Purchase Option (EPO) to get Rust & Corrosion coverage and much more!
For advice from company experts on the proper maintenance of heating and cooling systems and major appliances, schedule online or call 800-800-8356 to schedule an appointment or learn more about Home-Tech's Service Agreements for air conditioning repair.