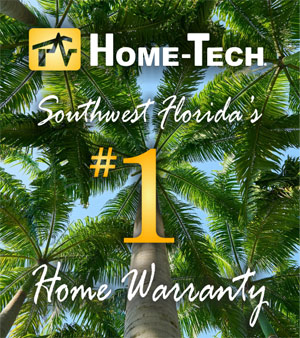 SWFL realtor clients could be waiting days or even weeks for the national companies to send out a subcontractor to help them. They do not prioritize AC outages here in Florida as we do. We never subcontract. Our own employees provide service 7 days a week, even on holidays.
A Two-Hour Time Frame for Service for Your Customers
We promise and MEET a 2-hour time frame. There is no inconvenience of waiting around for a technician.
Employee Owned, Local Company
Employee owners are more invested in the care of the customer because they are profit sharing with the company. Also, we customize every quote for every client's needs. This high level of attention and service can't be found with a national provider.
No Service Call Fees & AC Maintenance Included
ALL national companies charge trip fees and NONE of them provide vital AC maintenance as part of their product offering. With Home-Tech GOLD – it's NO CHARGE.  Submit an address for a quote.
Membership Benefits
A personal liaison at Home-Tech, a Member's only website, Member Appliance Centers in Fort Myers and Bradenton . . . no national company can begin to provide these kinds of perks.
Realtor Benefits
We offer Realtors referral awards of $50 for a Gold purchase and $30 for a Silver purchase. You can enroll and give your referrals here.
We value our relationships with realtor partners and are the preferred partner of one of the oldest and leading real estate companies in the area – John R. Wood. We have representatives available to answer questions, give office presentations, and help with customized quotes.
We work in five counties: Collier, Lee, Charlotte, Sarasota, and Manatee. Plus, we have the same schedule as our realtor partners. We work every day!
When your customers need a solid choice for a home warranty and reliable service, you can count on employee-owned Home-Tech!