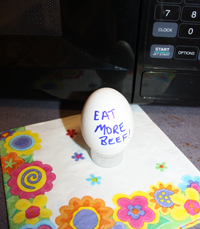 Q – Is It Dangerous to Microwave an Egg?
A – YES!
At Home-Tech, we love to "shell out" advice on how to use your kitchen appliances, since we are appliance and air-conditioning experts. Many people love to cook hard boiled or soft boiled eggs for breakfast. It seems logical to cook them in the microwave for a quick breakfast. What you may not realize is that this practice could be a safety hazard.
Kaboom!
As the egg heats up in the microwave and cooks, the shell holds in the heat and the steam. Even after you remove the egg from the microwave, it continues to cook. Just handling the egg could cause an explosion of boiling hot egg pieces and shell flying up at at you. The same danger is present when making sunny side up or fried eggs in the microwave. The thin film that contains the yolk is strong enough to hold the boiling hot contents. The egg yolk can explode when moved. We don't want you to end up with egg on your face.
Out of the Shell
For your safety, we recommend that you do not cook eggs in the shell in your microwave. If you must do it, then puncture the egg shell and the egg yolk membrane with a needle before cooking. When making sunny side up or fried eggs, be sure to break the yolk before you microwave it. That way, your breakfast will be perfectly delicious and safe.
Microwave an Egg – Scrambled Anyone?
Here's a tip to make quick scrambled eggs in the microwave. Melt a pat of butter in the bottom of a coffee mug for 10 seconds in the microwave. Then add 2-3 scrambled eggs to the mug. Cover the mug with vented plastic wrap and microwave on high for 1 minute. Stir the eggs, add grated cheese or parmesan, salt and pepper and microwave for another 30 seconds or more as needed. Your scrambled eggs should be light and fluffy and delicious.
For more helpful information or if you need any type of major appliance repair you can always call Home-Tech at (800) 800-8356.