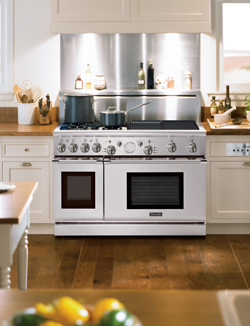 The oven's self-cleaning option can be a helpful tool to clear it of grease and grime, whether it's for Thanksgiving dinner or it simply needs to be freshened up. But before hitting that tempting button to shortcut the cleaning process, it's important you know a few things ahead of time. Read below for our 8 tips for self-cleaning ovens.
What Does My Oven Actually Do When It's Self-Cleaning?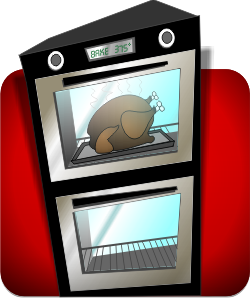 First and foremost, a self-cleaning oven doesn't mean you get out of cleaning completely. You'll still have to wipe up any residue, drippings, and other "goodies" that are left over after the self-cleaning finishes.
When you start your self-cleaning oven, it is going to get hot. Very hot! The goal is to create enough insulated heat to turn any grease, fat, and anything else that's been leftover into ash. That means you can expect your oven to reach temperatures of around 800º to 875ºF!
When Should I Run the Self-Clean on My Oven?
There are a few recommendations, but the main answer is that it depends on what you use your oven for and how often.
• If you're a frequent baker, it is recommended that you run the self-cleaning option at least once every four months.
• If you're an avid user of your oven for general cooking, then it's recommended you run it once every year.
Regardless of how often you use your oven, you should start the self-cleaning process one month prior to a large cooking event.
In other words, don't try to run a self-cleaning oven the day before Thanksgiving! A lot of things could go wrong if it is not done properly, so you want to leave enough time to fix any mistakes.
Is It Safe to Be In the House When the Oven Is Self-Cleaning?
Absolutely yes! Though there might be some stinky fumes from the grime essentially being smoked out, it is completely safe to be in the house when the oven is self-cleaning. The only exception would be if there was a major malfunction with your oven, or if there was no ventilation whatsoever.
Do I Have to Do Anything Before the Oven Self-Cleans?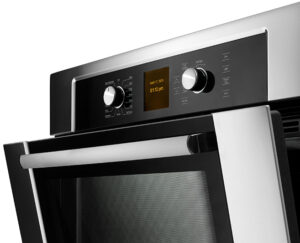 Technically, you can just start the self-cleaning oven and walk away for awhile, but if the thought of a smelly kitchen fills you with dread, there are a few things you can do before starting to lessen this.
1. Prepare your schedule – A self-cleaning oven is handy, but a lot of small issues could come up. Be sure to only start a self-cleaning cycle one month prior to a large cooking event.
2. Create good air flow – This includes turning on any vent hoods, opening windows, and anything else that can create a nice flow from the oven to the nearest window and/or door. This will help lessen the heat to your home and smell from whatever may burn off.
3. Do a quick pre-clean – Yes, the whole point is to have to do less cleaning, but this step can help make the entire process go faster and save you some time. Simply take an old rag or paper towel across the inside of your oven to get the biggest chunks of nasty out of there.
4. If you have a steam-cleaning oven, pour a cup of distilled water in the floor of the oven – This will make emptying out the gunk at the end even easier.
5. Once the self-cleaning cycle starts, lock the door – Even if your oven has an automatic locking feature, be sure it is actually locked! This will help keep the heat and smell isolated to inside the oven, rather than all around your house!
Can I Stop My Self-Cleaning Oven Early?
It depends on the make and model of your oven. The best way to know for sure is to check your oven's manual. Otherwise, plan as if you won't be able to stop the self-cleaning oven early.
The safest work around this concern is to set your self-cleaning cycle to the lowest amount of time first, then re-run the cycle if necessary. It is always easier to add more time than take it away.
How Long Does It Take for an Oven to Unlock After Self- Cleaning?
After a self-cleaning cycle, the oven should open once it has completely cooled. Depending on the age and make of your oven, this can take anywhere from 30-90 minutes.
In most cases, if your oven has an automatic lock, then it will also automatically unlock itself once the self-cleaning is finished. If you don't have an automatic lock, then it's suggested you wait the full 90 minutes before trying to open it. This should allow enough time for the self-cleaning oven to completely cool.
Why Can't I Unlock My Oven Door After Self-Cleaning?
There are a few reasons why your self-cleaning oven isn't unlocking the door, even after you've allowed enough time for it to cool down. Here is some quick troubleshooting you can do to help figure out the cause!
If your self-cleaning oven has an automatically locking door:
• Allow an extra hour for the oven to cool down
• Start another short cycle (1-2 hours), then hold the Clear/OFF button for one minute
• Run another short cycle, then allow the oven to cool completely
• Turn any power to the range/oven off for 30 seconds, then reboot it
• Turn the circuit breaker off for about five minutes, then turn it back on
If your self-cleaning oven does not have an automatically locking door:
• Make sure your Temperature and Set knobs are both on the Clean position
• Gently slide the latch all the way to the left as there might be a release button
If none of these solutions unlock your oven door after self-cleaning, then it is highly recommended you call a technician to service it.
Why Isn't My Oven Working After a Self-Clean?
There are a few reasons why your oven might not be working after a self-clean cycle. Here are the most common three reasons:
1. The door lock failed – If your door lock has failed, it won't open your oven… even after it has completely cooled.
2. The electrical safety shorted out – An electrical safety is supposed to stop your oven from overheating. If it fails, then it will turn the power off for the bake and broil element. It can't reset, so your oven will cool down and unlock, but you won't have any heat the next time you try to use it.
Besides these two common reasons, there could be a plethora of reasons for why your oven isn't working after a self-clean. Because of this, it is recommended that you only self-clean your oven one month prior to a large cooking event. That way, if any parts or repairs do need to be made, there's plenty of time!
Who Should I Call to Fix My Oven?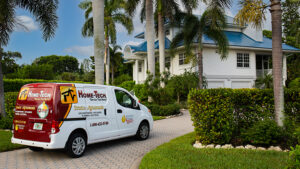 Home-Tech, of course! With over 40 years of experience and NATE certified technicians, Home-Tech can provide service on all residential ovens.
Contact us today to find out firsthand why so many SWFL homeowners put their trust in Home-Tech.