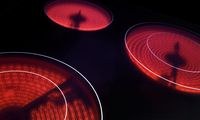 When you are doing a lot of extra cooking, you are bound to get more spills on your oven's glass cooktop. Everyone knows oven glass cooktop cleaning is no fun. Have you ever had the mashed potato water boil over, leaving water and starch stains? Or have the pumpkin pie or sweet potatoes dripped out of their pans, leaving piles of sugar burned on? Has flour, for thickening the gravy, gotten sprinkled on a burner and baked on? And, heaven forbid if a piece of plastic accidentally touches a hot burner. All of these spills and burns can require a lot of elbow grease to remove. But, if you use the right products and techniques recommended by Home-Tech, your oven glass cooktop cleaning chore can be a snap!
Chill Out
Our first bit of advice, is to wait until the the cooktop is cool before you begin cleaning.  Make sure the cooktop "hot surface" light is off.  Then, start with hot, soapy water and a sponge. Next, wipe the cooktop with clean water to rinse it.  Then, dry it with a towel.  If you do this routinely, every time you cook, there won't be any leftover spills to burn on the cooktop the next time you heat it up.  Our Home-Tech appliance specialists recommend a final spritz of  Windex to get that sparkle you love.
Oven Glass Cooktop Cleaning Secret Weapon
Our next advice is to help you remove that burned, blackened food that ends up around the edge of the burners. Our appliance specialists recommend that you use the cream cleanser and razor scraper tool that came with your cooktop. These cleaners are non-abrasive and remove the stains without scratching the glass. Use the scraper to remove the stubborn hard bits. The main thing to remember is to never use an abrasive cleaner on your cooktop.
We Have What You Need to Care For Your Appliances
Home-Tech recommends and sells the cream cleansers and scrapers made by Whirlpool. If you need to purchase either product, you can stop by our Member Appliance Center, which is open to the public Monday – Friday from 9am to 6pm. And, as always, if you are struggling with something too stubborn to come off your cooktop, you can always call Home-Tech and speak to one of our appliance specialists. They are happy to help.