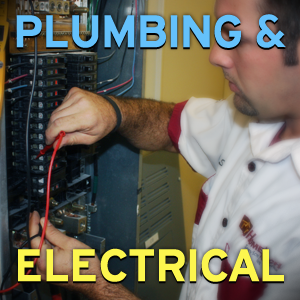 Plumbing and electrical problems are annoying and can cause a lot of damage if not dealt with. There is nothing more concerting than a bathroom flood caused by a toilet overflow. Is there? Or how about the toilet that just keeps running and running, wasting water. The GFI's in your home are there to protect you against electrical shock. Your safety is at stake if they aren't operating properly. And your main panel should be checked to be sure it's safe as well.
Plumbing and Electrical Option
Did you know that in addition to Air Conditioning and Appliance repair, Home-Tech also offers Plumbing and Electrical repairs and coverage? We have a very popular Plumbing and Electric Option that you can add to your Service Agreement. It's for minor plumbing and electrical repairs that come up around the home. The plumbing coverage is for water heater replacement, pressure relief valve replacement, covers two bathrooms, common faucet repairs, toilet repairs, leak and drain repairs and much more. The electrical portion is for circuit breaker replacement, switch, receptacle and GFI repairs, accessible short circuit repairs, equipment disconnects, doorbell components and includes an annual inspection of your main panel and GFI's.