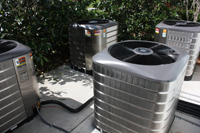 There are two important considerations when selecting the best company for ac and heating systems:
1. Hire a Quality Licensed Air Conditioning Contractor
With central air conditioning and heating, product performance and reliability are directly tied to the company's ability to design and install a system compatible for your home. The lowest price may not provide the highest quality installation.
2. Ask the Right Questions
If you're wondering how to choose the best company for AC repair and installation, you have to be able to ask lots of questions. Because heating or cooling purchases happen maybe once every 16-20 years, you may not be up to speed on new technologies or solutions available to correct common indoor problems. If you don't speak up, the sales associate may assume you're not interested in lowering utility bills, saving energy, reducing hot and cold spots or improving your indoor air quality.
What You Need to Know to Find the Best Company for AC
Here's how to make sure you are selecting the right company to purchase from and install your new heating and air system. The goal for you is to purchase a correctly sized system that is also properly installed. The best company for AC will know exactly how to do this.
Typically, manufacturer warranties cover the replacement of faulty components for a limited time. Failure due to poor installation is typically not warranted by manufacturers. Select a dealer and installer, like Home-Tech, who will do a good job the first time and be around to service your system and assist you as needed.
A quality installation takes more time to complete. Expect to pay more up front for comprehensive service, but much less in the long run for system service and maintenance.
A Comfort Specialist coming into your home should do more than just inspect your current system. Our specialists check airflow, inspect the duct system, make note of the windows and the direction your home faces.
Ask how long the company has been in business and if they offer 24/7 service, financing or accept credit cards.
Ask if the dealer possesses all of the appropriate licensing for installing air conditioning and heating equipment in your state and local area. Home-Tech's Tech Reps and installers are NATE Certified and licensed.
A knowledgeable air conditioning dealer and installer has your best interests at heart and will ask about your comfort in the home, how long you have lived there, how long you plan to stay, if you have allergies, pets, smokers, hot and cold spots or excessive noise.
A Home-Tech installer has the tools to address your home comfort issues, will offer solutions such as programmable thermostats, humidifiers, air cleaners and variable-speed and two-stage technology.
Be leery of a dealer or contractor who quotes you a price on the back of a business card after just a few minutes, and especially if it's over the phone.
Consider a Service Agreement for extended peace of mind and maintenance of your new air conditioning system.
Trust in Home-Tech
Since 1981, Home-Tech has been proudly servicing, selling and installing air conditioning and heating systems in Southwest Florida. We have 90 service vehicles on the road every single day, assisting customers just like you. Home-Tech proudly sells Carrier and Trane air conditioning systems. Our licensed and fully trained technicians and Comfort Specialists are available to assist you with your air conditioning needs when you need it most.
If you would like to try before you buy, you can feel the difference of the air conditioning systems in our two southwest Florida showrooms. We have live, working units in the showrooms, and our specialists can walk you through the Home-Tech experience. Our proof is in our happy customers. Click here to read our satisfied customer testimonials.
For more information about Home-Tech or to schedule a service or sales appointment, fill out our Request Form or call 800-800-8356 ext 5. We proudly serve Lee, Collier, Charlotte, Sarasota and Manatee counties.