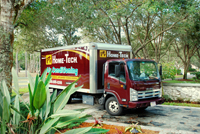 Just how much can you save with a new air conditioning system? A happy Home-Tech customer spills the beans on savings.
New Air Conditioning Savings and System Review
Ladies and Gentlemen,
Almost one year ago, the original AC system that [Home-Tech] installed in my home back in 2000 reached the end of its life. It became clear that it was time to replace the unit. After some investigation, together with your sales staff, we finally settled on a twin speed Amana  [ASXC18 R-410A] unit that was installed on August 23, 2011. This [unit] was more expensive than certain others [air conditioning units], but came highly recommended.
The months of April, May, June, July of 2012 finally provided a fair performance comparison. It may be deduced that the old air conditioner was laboring with age, and perhaps did not run with the utmost efficiency. The results detailed below are startling to me, and may prove to be of interest to you, as well.
Over the four months under review, there has been a reduction in units/dollars consumer of approximately 40%, with an average monthly savings of $136. This amount far exceeds the estimates made at the time of purchase.  There is no doubt that this unit, though higher in cost, is more than living up to expectation and can be well recommended.
It is nice for once to see a project actually fulfill and even surpass expectation!
Sincerely,
R. Land, Naples
More About The Amana ASXC18R-410A Air Conditioning System
Robert purchased the Amana, 3-ton,  ASXC18 R-410A air conditioning system from Home-Tech.  High-efficiency, outstanding performance, reliable operation and outstanding features add up to premium indoor comfort. This air conditioning system will provide your family with the best in energy efficiency, environmental responsibility, and cool indoor comfort, compared to lower SEER units, for many, many years to come.
Product Features
ComfortNet™ Communications System compatible
Two-Stage Copeland® UltraTech scroll compressor
HIgh-density foam compressor sound blanket
R-410A chlorine-free refrigerant
Expanded ComfortAlert™ diagnostics built in
Set-up capable with two low-voltage wired to outdoor unit
Diagnostic indicator lights and storage of six fault codes
Color-coded terminal strip for non-communicating set-up
Coil and ambient temperature sensors
High- and low-pressure switches
Factory-installed filter drier
Two-speed quiet condenser fan motor
Amana brand sound control top design
AHRI certified; ETL listed
Air Conditioning is Our Specialty
Whether you're in need of air conditioning repair or are interested in buying a new system, Home-Tech's Comfort Specialists are here to help. Home-Tech sells air conditioning systems from Amana, Carrier, Maytag and Trane. Best of all, we repair ALL brands of air conditioning and heating systems. Want to feel the cool comfort of a new system before purchasing? We've got you covered.  Stop by our showrooms to look, see and feel how these air conditioning systems operate.
To schedule service or to learn more about your air conditioning replacement options, call us at 800-800-8356.