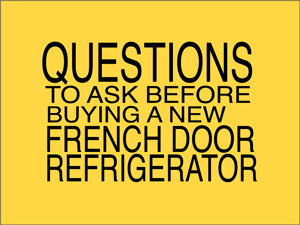 French door refrigerators are all the rage these days. But, with so many models and designs, how can you determine the right size for you? Simple. Home-Tech has provided the right questions you must ask yourself when shopping for french door refrigerators. Then, based upon your answers, we can suggest several Whirlpool models that will fit your needs. Let's begin.
Ask The Right Questions
When shopping for french door refrigerators, it is important to know the features that are important to you. The questions below will narrow down your needs, as well as assist the appliance expert in directing you to the size and styles of french door refrigerators that provide the solutions you are seeking.
What are the dimensions of the space for your new refrigerator?
Where would you like to place your new refrigerator?
Do you frequently access items in the fresh food compartment?
Are you looking for maximum fresh food space in your new refrigerator?
Are you satisfied with the configuration of your current refrigerator?
What kinds of food do you currently store in your freezer?
Are you looking for organization solutions, especially for your fresh food?
How much fresh produce do you buy at a time?
Do you have refrigerated items you access frequently?
French Door Refrigerators for Small Spaces
If you are looking to replace a top-freezer model, then the Whirlpool 30″ french door models are ideal. They will fit in small kitchens with limited space, and are an easy upgrade of style and function without the high expense of remodeling. Home-Tech suggests the WRF560SEHZ. Even though these french door refrigerators are smaller in size, there is  more room for fresh and frozen food with the most usable capacity available in its class.
Going for Mid Sized Convenience
The mid sized models range from 33″ to 36″ in size. If you are making the move from a standard side-by-side refrigerator, these Whirlpool spacious french door models provide flexible storage options like gallon door bins and a full width pantry. Not only do you have 25 cubic feet of space, but these french door refrigerators have the leading performance features like Adaptive Defrost and Panoramic LED interior lighting. Check out the 33″ wide WRF532SMHZ and the 36″ wide WRF555SDFZ.
The Ultimate in Storage
What isn't to like in the Whirlpool WRX735SDHZ, 26 cu. ft. French Door Refrigerator with an exterior refrigerated drawer that keeps frequently used items within easy reach? Adjust the temperature of the exterior drawer separately based on what you're storing. Get filtered water and ice with the exterior dispenser with Measured Fill. Select the exact amount of filtered water you need. The dispenser will fill your container in ounces, cups or liters and automatically shut off when it's done. This refrigerator exceeds government standard for energy.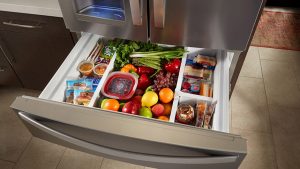 Find the Perfect French Door for Everyone
At Home-Tech, we pride ourselves for our outstanding customer service and our highly trained appliance experts on staff. If you have any questions about sizes, features and efficiency of french door refrigerators, we can answer them quickly and help you pick the right model for you. Not sure about which size you may need? Home-Tech will even come out an measure for you! If you have questions or want to schedule a one-on-one appointment with an appliance expert, please call 800-800-8356, or you can shop our online Appliance Showroom.
Additional Reading:
10 Secrets to a Clean Refrigerator
What's in a Single Girl's Refrigerator?
Can I Fit Everything in a Counter Depth Refrigerator?