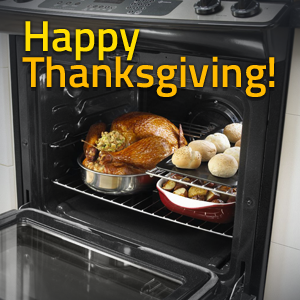 Have you ever felt like a holiday was so stealthy and sneaky that it crept up behind you, tapped you on the shoulder, and yelled, "BOO!"?
This year, Thanksgiving has been very, very quiet, as it sits patiently in the background, buried by tinsel, Christmas music, and holiday shopping. It seems like folks are so busy hanging wreaths and mistletoe that they've forgotten all about the poor neglected turkey. Well, guess what? Thanksgiving is this week! Stop licking stamps for Christmas cards and, with the help of Home-Tech, let's start prepping the kitchen for the big bird.
Prepared Appliances are Happy Appliances
This is the time to check all of your kitchen appliances to make sure everything is in good working order – everything from the garbage disposal to the microwave needs to be checked and ready. We blogged about cleaning out the refrigerator recently and we can't stress it enough – give both the freezer and the fridge good thorough cleanings to make room for all the groceries coming in – and of course, all the leftovers on the way.  If you have any trouble with your garbage disposal you might want to check out this tip video with advice from us to you.
A Service Agreement Means a Happier Thanksgiving
If you have a Service Agreement with Home-Tech and one of your appliances needs repaired, we urge you to give us a call now so we can get everything in your kitchen up and running before the feast. Maybe you just need an extra appliance part or a burner on the oven is on the fritz – either way, we're here for you. Oh – and speaking of ovens, don't get bogged down by self-cleaning. You are going to get your oven dirty from cooking the Thanksgiving dinner.  It's better to wait until after Thanksgiving when things have calmed down and you have less to worry about. And by "less", we mean putting up the tree, figuring out what you're wearing to 16 holiday parties, and finding the perfect recipe for egg nog. As for Thanksgiving, don't say we didn't warn you – don't let all the tinsel blind you.