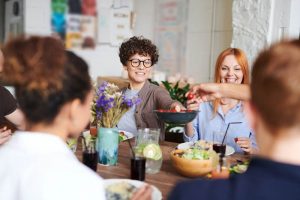 We've all been there – it's been a few years since your family has had the entire extended family over for Thanksgiving. The past couple years you've rotated between going to your in-laws, going on vacation for the holiday and heading to your brother's house for Turkey Day. You're excited to see everyone, but a little overwhelmed to host Thanksgiving dinner. That's why the experts at Home-Tech have come up with this guide to help you host the best Thanksgiving dinner possible. Whether you like it or not, everyone will want to come over again next year!
Host Thanksgiving over Zoom
Due to Covid-19, we understand that many people may not be having Thanksgiving dinner with the entire family this year. The decision may be difficult between the uncertainty of flying and being around family members who would also be traveling in from different places. If you've made the decision to keep Thanksgiving dinner small this year, you're not alone and you shouldn't feel alone, either!
Coordinate a time that the entire family can hop on a Zoom call. Zoom is easy to use and supports up to 100 participants, so you'll be okay even if you have a REALLY large family. This will allow all of you to share memories and talk about plans for the day. You could watch the virtual Macy's Day Parade together or eat dinner "together." The key to quarantine is ensuring that you're not isolated socially, so be sure to plan something with family when you can't all be together physically.
Make a List (and Check It Twice)
If you are planning on all being together for Thanksgiving, the first thing you'll want to do is make a list. How many people are coming? Does anyone have allergies or dietary restrictions? What will you need to get at the grocery store? How can you account for social distancing while hosting dinner?
By taking these factors into consideration, you'll be able to put together a list that makes sense for you. It will give you clarity as to how much green bean casserole you'll need to make or how many desserts will need to be baked. Also, ask if your family members are planning on bringing anything so there won't be multiple pecan pies.
Make Seating a Priority
Most American homes have a dining room with a table big enough for the household. Oftentimes there's also a bar where people can sit, and some Floridians are also able to depend on outdoor seating for large groups. Whichever way your home is situated, you'll need to ensure that there's enough room for everyone to sit and eat. There are several local companies who offer table and chair rentals, but you'll need to think of this a couple weeks in advance. Take into consideration if you want there to be a separate table for children or if you want one long table for everyone.
To make dinner social distancing friendly, it may be nice to host Thanksgiving dinner outside. Not only is the weather typically beautiful on a Southwest Florida Thanksgiving Day, but it'll give everyone room to spread out more. To take it one step further, you could have each family sit with their immediate family members. This allows you to all be together, but also enables you to keep distance from family who haven't been in your quarantine group.
Keep the Kids Happy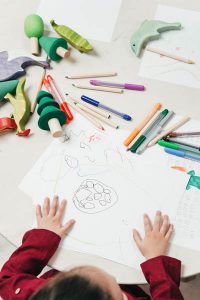 If you're planning on having a large get together with small children, make sure there's stuff for them to do while the adults talk. An easy way to do this is by printing some coloring pages and supplying crayons. If you don't already have crayons or colored pencils, it'll only cost you a few dollars but will make the world of difference.
It's also important to plan the menu around kids. Provide mac and cheese in addition to that lovely squash dish. If you're afraid you'll have too much cooking going on already, ask a couple of the parents if they wouldn't mind bringing kid-friendly dishes. It's okay to ask for help – after all, they are family. Not to mention, they might surprise you by saying their child enjoys all of the adult foods and will be perfectly okay without mac and cheese.
Ask for Help
Holidays are supposed to be fun, don't forget that! If you need help from a family member who lives in town or even someone who lives in your own house, just ask. Around the holidays, everyone seems happier to help! Remind them that while it's fun to host Thanksgiving dinner, it can also be stressful. This goes for cleaning up after dinner, too. Just because you're the host, doesn't mean you have to do it all. Most family members are happy to help clear plates and pack to-go boxes.
Keep Home-Tech on Speed Dial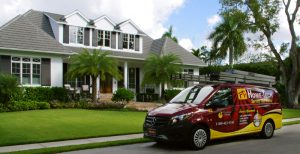 If something goes wrong with a kitchen appliance, Home-Tech is here to help. If your AC goes out or your refrigerator stops working, call us at 800-800-8356. Whether it's a few days before the holiday or 20 minutes before you're about to start cooking on Thanksgiving Day, we'll be there. We provide fast, emergency appliance and AC repairs to Southwest Florida residents.
If you're interested in getting ahead of the problem, ask about a Home-Tech Service Agreement. This Home Warranty will protect you from expensive repairs and will give you priority if something does go wrong. Host Thanksgiving knowing someone's got your back if your appliances fail you. Fill out an online form for a free quote!