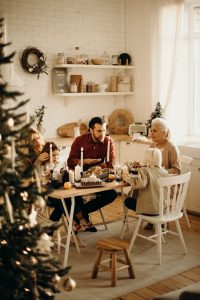 Christmas always seems to sneak up on us, huh? The week before Christmas is always filled with last-minute shopping, baking, and cooking. Christmas Eve and Christmas Day, however, should be spent visiting with family and friends. There's a lot of prep to be done and surprisingly, a lot of it has to do with appliances, which is why Home-Tech wanted to give input on how to prepare. Christmas Eve is on a Thursday this year, so we'll be explaining what you should be prepared for each day of the week following up to it.
Sunday
Today is the perfect day to clean your oven in preparation for all the fun cooking and baking you'll be doing. Wait until after you've finished all of your cooking to clean the oven. So, if the last thing you're using your oven for on Sunday night is cooking dinner, clean your oven after dinner.
These days, many ovens have a self-cleaning feature, but it can still take hours to clean. Not to mention, the oven can overheat and damage a major component like the fuse or control board. While this feature is extremely helpful, it's still technology and technology can malfunction.
Completing this task the week before Christmas allows you to ensure the oven is still working properly throughout the week…before it really matters. Using your oven throughout the week will also help you realize if there are any temperature problems. We suggest putting a thermometer in the oven to make sure it's heating to the temperature your oven is set to.
Monday
Garbage disposal issues can be one of the most annoying to deal with. We all know we can just throw scraps in the garbage, but putting them down the garbage disposal is much more convenient. Utilizing your garbage disposal means not having to deal with smelly or overflowing garbage, so when it's not working it can be very frustrating.
On Monday before Christmas, use a disposal cleaner to eliminate any grease build-up or odors. This can prevent it from clogging when you need it most. It's important to check that the brand of disposal cleaner you're using is approved by the disposal manufacturer. Grinding lemons or oranges can help strengthen the disposal's impellers and make it smell nice, too. Be sure to always run water during and after disposing of your food to flush the drain line properly. If you're still having issues, Home-Tech can snake your drain lines.
Tuesday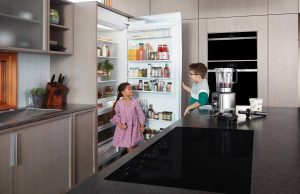 Tuesday should be set aside for cleaning out your refrigerator and freezer. The week before Christmas, you're probably getting a ton of groceries and are preparing for leftovers, so make sure this space is being utilized correctly. Get rid of the expired cheeses or the chicken that's been attacked with freezer burn. To prevent waste, use these leftovers in the next couple of days.
One major tip is to not panic if your refrigerator or freezer doesn't feel as cold as it normally does during the holidays. With the door constantly opening and shutting, and everything is packed in tight, it's normal for your fridge not to feel as cool as usual. You only need to worry if your fridge feels warm or if your food smells rotten. Trust us; you'll know the difference between a fridge hard at work and a broken fridge. If you do suspect a broken fridge or freezer, call Home-Tech for dependable, fast repairs!
Wednesday
If your dishwasher isn't getting the job done and your dishes are coming out dirty, it may be time to have a Home-Tech technician take a look. Before investing in a repair or potential replacement, however, we have some simple tips to try the week before Christmas.
Always run the disposal before starting the dishwasher. Since they share the same drain, any food stuck in the disposal may be causing your dirty dishes in the dishwasher. Another pro tip is to let hot water run in the sink right before starting the dishwasher. This helps the water become immediately hot as soon as it starts. Setting the water temperature on your water heater to 120 degrees can also help sanitize and clean the dishes better.
Other than that, don't pack the dishes too tightly and don't leave too much food on the plates before loading. Although dishwashers are awfully high-tech nowadays and allow for food remnants to be left on the plate, it's still important to rinse before loading.
Call Home-Tech the Week before Christmas
Whether you're struggling with your appliances or AC the week before the holiday or on Christmas Eve, you can contact us for emergency service. Christmas should be spent enjoying time with family, not cursing at the refrigerator. Let us take care of the inconveniences, it's our specialty! If you're looking to invest in a Home-Tech Service Agreement to protect you from expensive repairs, fill out a free quote request form or call us at 800-800-8356.