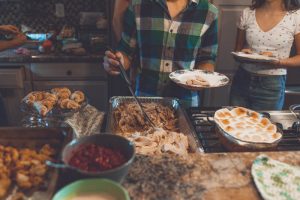 Each year, Americans around the country struggle to get creative with their Thanksgiving leftovers. There are only so many days in a row that you can fathom eating turkey and mashed potatoes as is. So, we decided to find the best Thanksgiving leftover recipes to share with our customers and viewers. These can all be found on the Food Network, who posted a list of their top 60 Thanksgiving leftover recipes. From there, Home-Tech found three that we thought would be both delicious and convenient. The first recipe we constructed ourselves.
Grilled Turkey, Brie, and Apple Butter Sandwich with Arugula
This is a new twist on an old classic. Everyone loves making a sandwich with their Thanksgiving leftovers, right? And recently, charcuterie boards have become increasingly popular for holiday celebrations. Typically, brie is a common cheese for these meat and cheese boards. If you have leftover brie, turkey, and cranberry sauce, then this is the perfect (yet easy) Black Friday lunch. Although we list ingredient amounts, it's best to eyeball the sandwiches and add however much your heart desires.
Ingredients:
2 slices of any bread you have; we suggest a thicker artisanal rye bread for best results
2 tablespoons unsalted butter, softened
1 tablespoon leftover cranberry sauce
¼ pound leftover turkey
2-3 slices of thick-cut brie cheese
1 bunch arugula, stems trimmed
Directions:
Spread each slice of bread with 1/2 tablespoon of butter. Now spread each with 1 tablespoon of cranberry sauce. Top each slice of bread with a couple of slices of turkey, cover that with 2 to 3 slices of brie (enough to cover the turkey), and finally, arrange 2 to 3 arugula leaves on top. Spread the other bread slice with 1/2 tablespoon of butter and lay them, buttered sides down, over the cheese; press gently.
Heat a large cast iron or other heavy skillets over medium-low heat. Add the remaining 1 tablespoon butter and let it melt to evenly coat the bottom of the pan. Add the sandwich and cook for 2 to 3 minutes until the bread is golden brown and the cheese begins to melt. Flip and cook for 2 to 3 more minutes to brown the bread. (Add more sandwiches to the pan if they'll fit, but add an extra tablespoon of butter to the pan if you choose to make more than one.) Cut the sandwich in half and serve hot.
In my household, we're all about using Thanksgiving leftover turkey and turning it into a turkey noodle soup, but I'm going to suggest this recipe instead this year. Not only does it take care of leftover turkey and veggies, but it also incorporates your leftover stuffing, too. Not to mention, you can use the turkey bones for a delicious broth. If you didn't save your turkey bones, just use chicken stock instead!
 Ingredients:
Carcass from one 12 to 14 lbs roasted turkey, picked clean
2 large onions, one quartered and one chopped
4 peeled carrots, 2 coarsely chopped and 2 sliced
4 stalks of celery, 2 coarsely chopped and 2 sliced
6 garlic cloves, 4 smashed and 2 chopped
1 bay leaf
10 whole black peppercorns
1 tablespoon extra-virgin olive oil
2 large eggs
6 tablespoons all-purpose flour, plus more as needed
1/2 teaspoon salt, plus more as needed
Freshly ground black pepper, to taste
2 cups leftover stuffing
2 sprigs of fresh thyme
2 cups shredded leftover turkey meat
1 cup leftover corn kernels
Directions:
Put the turkey carcass, quartered onions, coarsely chopped carrots, celery, smashed garlic, bay leaf, and peppercorns in a large stockpot and add enough cold water to just cover about 2 quarts. Bring the water to a boil, and then reduce the heat to maintain a gentle simmer and cook for 1 hour. Remove from the heat and strain the solids from the broth. Pour the liquid through a fine-mesh strainer and reserve; you should have about 10 to 12 cups of broth.
Meanwhile, in a small bowl, whisk the eggs, flour, 1/2 teaspoon salt, and some black pepper together until smooth. Add the stuffing and mix until well combined; cover and reserve. If your stuffing is too moist, continually add a teaspoon of flour at a time until it's firm enough to hold its shape while rolling.
Wipe the stockpot clean with a paper towel. Heat the oil in the pot over medium heat. Add the chopped onion and garlic and cook until soft and translucent, about 6 minutes. Add the sliced carrots and celery, thyme sprigs, and reserved broth and bring to a simmer; cook until vegetables are just soft, about 10 minutes.
Roll level tablespoons of the dumpling mixture into balls with wet hands (see note) and drop into the simmering soup; cook until dumplings float, 3-4 minutes. Gently stir in the turkey meat, corn, and season with salt and pepper, and simmer until heated through. Serve immediately.
Cranberry muffin meets carrot cake. What could possibly be better? If your pie assortment didn't quite satisfy your sweet tooth, then this recipe will definitely get the job done! This recipe is also great for not letting any scrap go to waste. Don't toss your cooked carrots, orange zest, or cranberry relish. Instead, enjoy these muffins with a cup of cider.
Ingredients:
2 cups all-purpose flour
2 teaspoons baking powder
1/2 teaspoon salt
1/2 teaspoon ground cinnamon
1/4 teaspoon ground nutmeg
1/4 teaspoon ground ginger
1/2 cup (1 stick) unsalted butter, at room temperature
3/4 cup sugar
2 large eggs, at room temperature
1 cup pureed cooked carrots
Zest of 1 orange
1/2 cup leftover cranberry relish
2 tablespoons Demerara or granulated sugar, for sprinkling
Directions:
Preheat the oven to 375 degrees F. Line a 12-portion 1/2-cup muffin tin with paper liners.
In a large bowl, sift the flour, baking powder, salt, cinnamon, nutmeg, and ginger together.
In a standing mixer fitted with the paddle attachment, or with a hand-held electric mixer in a large bowl, cream the butter on medium speed until lightened. With the speed on low, slowly add the sugar. Increase speed to medium-high and beat until light and fluffy, about 4 minutes. Add the eggs, one at a time, beating between each addition and scraping down the bowl as necessary with a rubber spatula. Add the carrot puree and orange zest and beat until well combined. With the mixer set on low, slowly add the dry ingredients and mix until just combined; do not overbeat. Remove the bowl from the mixer and with a rubber spatula, gently fold the cranberry relish into the batter until evenly distributed.
Evenly divide the batter among the lined muffin cups and sprinkle a little sugar over the top of each. Bake in the center of the oven until light golden brown and a toothpick inserted in the center comes out clean, 25-30 minutes.
Cool in the pan on a rack for 10 minutes. Remove muffins from the pan and transfer them to a rack to cool completely. Serve warm or at room temperature.
I decided to save the best for last…in my opinion. I originally saw this genius concoction being made on Diners, Drive-Ins and Dives at a restaurant called Funk 'n Waffles. When I saw it, I immediately made a mental note and decided this is what we'd be making with our Thanksgiving leftovers. I was so happy to see that Food Network posted a recipe for these leftover stuffing waffles, although I know it may not be the exact same thing I saw on DDD. If you're not totally on board with it, just think about how great chicken 'n waffles are and then it may seem less outlandish.
Ingredients:
Vegetable oil, for the waffle iron
4 1/2 cups of crumbled leftover stuffing
1/4 cup chopped fresh parsley
2 large eggs, beaten
2 cups leftover mashed potatoes, warm
1/2 cup leftover gravy, warm
1/4 cup leftover cranberry sauce
Directions:
Preheat the waffle iron to medium-high. Generously brush the top and bottom of the iron with oil.
Combine the stuffing, parsley, and eggs in a medium bowl. Evenly and firmly pack the waffle iron with some of the stuffing mixtures. Close the iron and cook until the waffle is golden and can be lifted out easily, 4 to 6 minutes. Repeat with the remaining stuffing mixture.
Transfer each waffle to a plate, top with a scoop of mashed potatoes, and then cover with gravy; finish with a dollop of cranberry sauce.
Struggling With Your Thanksgiving Leftovers?
All the cooking and chaos that comes along with Thanksgiving may give your appliances a meltdown. If this happens, contact Home-Tech for fast, emergency repairs. We want you to enjoy Thanksgiving and the leftovers that come with it, which is why we provide emergency repair services 7 days a week, including holidays. If you're wanting to look ahead, ask us about our Service Agreements that protect you from costly repairs. Fill out our free Home-Tech Service Agreement quote request or call us at 800-800-8356.