Florida Home Service Warranty
Curious about a price for a local home warranty here in Florida?
hidden field so all items are closed
Peace of Mind
Enjoy the peace of mind of Home-Tech's quality in-home service.
No Expensive Repair Bills
No more worries about expensive repair bills.
Convenience
Convenience of 2 hour time frames for service!
Emergency Service
Emergency Service 7 days a week, including holidays.
Personal Liaison
Your own personal liaison to assist you with your service and Membership needs.
Member Appliance Center
Private, Member Appliance Center with "Cost Discount" pricing or "Gift Coupon Credit(s)" on qualified replacement appliances, discount for standard delivery and installation, and private appointments.
Member Services Site
Access to our exclusive Member Services site. Schedule service by selecting a two-hour time frame that is convenient for you!
What is a Home Service Warranty?
A home service warranty is a service contract that covers household appliances and systems when they break down. That's why at Home-Tech we call them Service Agreements.
They protect you from the unexpected high cost and inconvenience of appliance and air conditioning breakdowns.
Home-Tech's Gold Service Agreement stands out among the rest making it the best home service warranty in Southwest Florida!
A/C Systems
Heating Systems
Refrigerators
Freezers
Hoods
Ranges/Ovens/Cooktops
Microwaves
Dishwashers
Disposals
Washers
Dryers
Water Heaters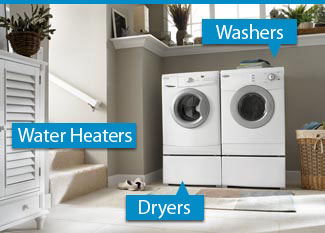 Heating & Cooling Systems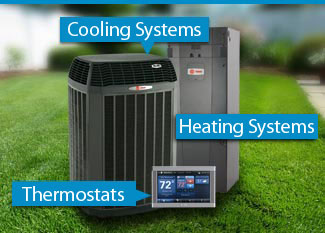 GOLD & SILVER
Home Service  Warranties
Learn about Home-Tech's Home Service Warranties in our videos.
View and download our brochures.
See how a Home Service Warranty pays for itself!
Why Do I Need a
Home Service Warranty in Florida?
With the extreme and unpredictable weather conditions that come with living in Florida, it's important that you're covered! A home service warranty helps protect against the high cost and inconvenience of air conditioning and major appliance breakdowns. 
Without a home service warranty, you could be faced with repair costs in the thousands for major breakdowns! Not to mention the smaller fees of regular maintenance that can quickly add up. A Gold Florida Home Warranty with Home-Tech can cover all of your major appliances, AC system, parts, labor, and an unlimited number of service calls. So, you never have to worry about the cost of regular maintenance.
Emergency SAME-DAY Service

Florida Home Service Warranty FAQ
Who Should Get a Home Service Warranty in Florida?
Ideally, everyone living in Florida should get a home service warranty! But this is especially true for new home buyers, those with appliances outside of manufacturers' warranties, and any Florida homeowners with AC systems older than five years. However, everyone can benefit from the convenience of a home warranty.
Do I Need a Home Service Warranty If I'm Selling My House?
It definitely helps! A listing covered by a home service warranty can help make buyers feel more confident by covering all the major appliances. This can be a great selling point and help your listing stand out.
Plus, with a Home-Tech home service warranty, you can gift your home service warranty to the new owners!
What Does a Home Service Warranty Cover in Florida?
Home service warranties will typically cover air conditioning systems and major appliances. However, you can customize your home service warranty to fit your specific needs. For example, Home-Tech offers additional coverage for pool heat pumps, ice machines, ductless air conditioners, as well as minor plumbing and electrical service.
How Does a Florida Home Service Warranty Work?
After speaking to one of our Service Agreement Specialists and creating a customized coverage plan for your specific needs, your Home-Tech home service warranty will go into effect ten days after signing.
If you ever need service on any of your covered major appliances, AC, plumbing, electrical, ice maker, pool heat pump, even the microwave, you only have to call to schedule service. We even have a member's specific website to schedule online!
Which Home Service Warranty Company Do I Choose?
There are four factors you should look at when deciding which home service warranty company to choose:
Location – Although national home warranty companies may seem like a good choice, most are based out of state. Home-Tech is right here in Southwest Florida. Local companies understand the needs of our residents. Which leads to the next factor:
Subcontractors – A lot of companies will hire subcontractors that can take up to 48 hours just to accept the job! And you often don't know what subcontractor will even be coming out. At Home-Tech, we NEVER use subcontractors. We train our technicians in-house, allowing us to offer Two-Hour Timeframes and Same Day Emergency Service!
Reviews – Google, BBB, and even Facebook can be good indicators for how a company really treats its customers. Home-Tech is proud to say we have a near perfect five stars on Google, an A+ rating on BBB, and over 250 recommendations on Facebook.
Age of Company – The longer a company has been around, the better! Home-Tech has been serving SWFL since 1981 and has been Employee-Owned since 1996, so you know you're in good hands.
How Much Does a Home Service Warranty Cost in Florida?
Every home service warranty is different and the cost will vary from homeowner to homeowner. Each company is different and each customer's plan is unique, so it's best to contact the company you're interested in learning more about. There are several options that Florida home service warranty companies give when pricing your plan.
Typically, companies charge an annual fee in addition to a service call or trip charge. With Home-Tech's GOLD plan, service calls for covered repairs are included! This $0 service call is not offered by most home warranty companies helping to make our GOLD plan our most popular. But we also offer a SILVER home warranty plan that includes a $99 service call.
To get a free quote for a home service warranty for your Florida home, you can request one above or call 1 (800) 800-8356 ext. 3.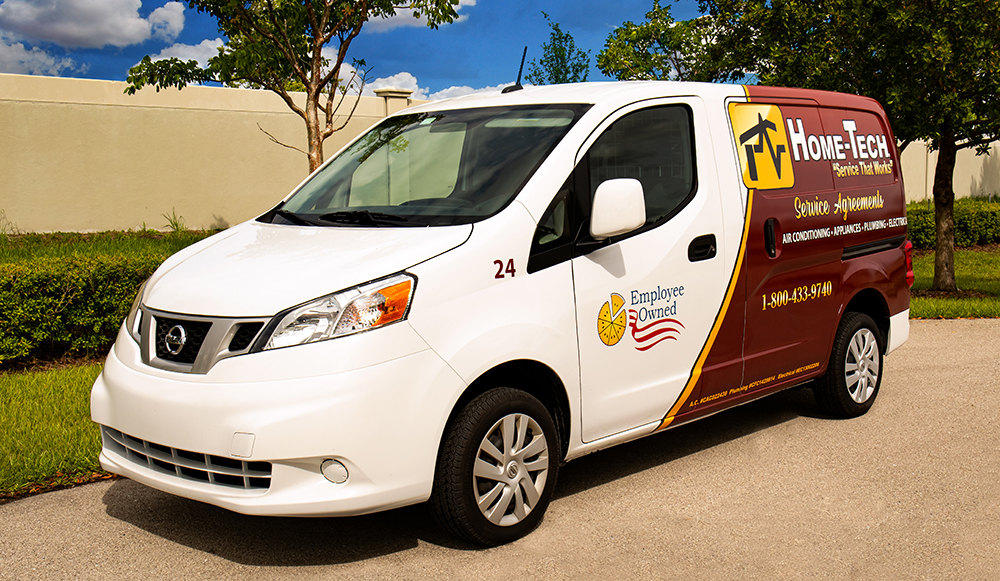 We provide service 7 days a week to residents in:
Sarasota County
Manatee County
Lee County
Charlotte County
Collier County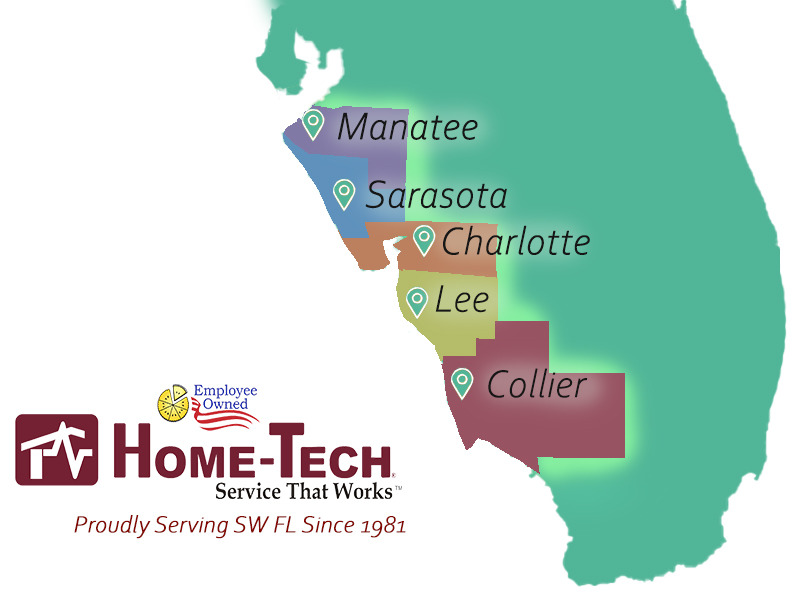 Home-Tech has been serving SWFL since 1981; so, you're likely to see one of our iconic red and yellow vans in your neighborhood.