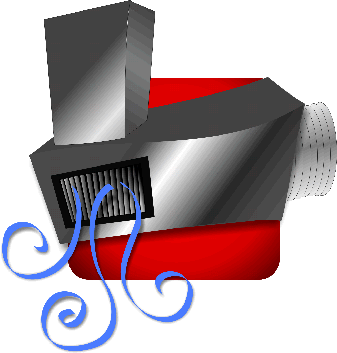 Have you ever noticed the air conditioning duct system in your home? Do you know where it is located? Most duct systems in Southwest Florida are located in the attic and/or between walls and floors. These systems are installed during the "rough in" phase of home construction. Little thought is given to replacement or repair of these systems when they're installed.
Air Conditioning Duct System
This creates a real challenge when duct systems break down, leak or become undersized for today's high efficient air-conditioning equipment. Like most bids in new construction, the contractor awards the job to the lowest bidder. Low bids rarely result in high quality material and workmanship. The time to look into replacing your duct system is when you are replacing your air conditioning system.
What's The Cost?
The cost of air conditioning duct replacement varies, based on the difficulty, but be prepared to add 40% to 60% on top of the equipment cost. Replacing duct systems is a labor-intensive job under the worst working conditions. Attic temperatures can be about 130 degrees. The work area is a tight, confined space and it can be filled with fiberglass materials. Duct mechanics must be trained and skilled in air flow design and installation. When choosing a company to do the work, this is not a place to cut corners. Here at Home-Tech, we have the best in the business; skilled craftsmen that ensure your job is completed to the highest standards.
Should You Replace Your Air Conditioning Duct System?
Maybe or maybe not. Many existing air conditioning duct systems are adequate to accept new air conditioning systems. To transition your new air conditioning system to your existing duct system, Home-Tech includes the cost of minor duct work adjustments and new duct material in all our estimates. Your Home-Tech Comfort Specialists will give you the facts about the condition and size of your current duct system.
They Cared About Our Home Throughout the Process
Re: A Durant/S Tomaino
All New Duct Work
"Dear Mr. Marino,
Recently we replaced the air conditioning duct system in my mom's home through Home-Tech. The project lasted four days and during that time we had Josh and Steven there each day along with several others who were in and out. Everyone who entered our home and worked on the project was great, but we wanted to let you know how much we appreciated Josh and Steven. Not only did they seem to really know what they were doing, they also clearly cared about our home throughout the process.
Josh and Steven were very professional, but they were also friendly. That friendliness opened the line of communication for us, and we felt free to ask questions or make comments. We were thankful for that opportunity because we had a lot of questions! Their willingness to discuss various options or ideas I had was beneficial and because of that we added a little additional work.
Having people in your company like Josh and Steven is an asset. I would not hesitate to open our doors to Home-Tech again because of our interaction with your team.
God's blessings!"
Call Now
You might be ready to talk to some experts about getting a new air conditioning system and perhaps a new duct system. We are happy to give you a FREE consultation. Comfort Specialists from Home-Tech are always available to visit with you.
Call (800) 800-8356 ext 5.
If you've had a duct replacement done by Home-Tech and would like to review us, please make a comment on our Facebook page or give us a Google review.
Additional Reading on AC Duct Systems:
Why Do Homes Have a Distinct Smell?
Fighting Allergies with Improved Indoor Air Quality
Unstoppable Trane Air Conditioning
How to Choose an AC Installation Company