Curious about a price for a home service warranty? Get a FREE quote.
hidden field so all items are closed
Peace of Mind
Enjoy the peace of mind of Home-Tech's quality in-home service.
No Expensive Repair Bills
No more worries about expensive repair bills.
Convenience
Convenience of 2 hour time frames for service!
Emergency Service
Emergency Service 7 days a week, including holidays.
Personal Liaison
Your own personal liaison to assist you with your service and Membership needs.
Member Appliance Center
Private, Member Appliance Center with "Cost Discount" pricing or "Gift Coupon Credit(s)" on qualified replacement appliances, discount for standard delivery and installation, and private appointments.
Member Services Site
Access to our exclusive Member Services site. Schedule service by selecting a two-hour time frame that is convenient for you!
Home-Tech's Home Service Warranties, or as we call them, Service Agreements, cover your home air conditioning systems and major appliances as shown in the coverage photos. It protects you from expensive repair bills when things break down. You can also cover additional equipment like Pool Heat Pumps, Ice Machines, Ductless Air Conditioners and more. We also have valuable Options like our most popular, Plumbing and Electrical.
Request an online FREE Quote for a Home Service Warranty (Service Agreement) today by completing the form at the top of this page or call 1-800-800-8356 Ext. 3. 
Coverage includes the following:
A/C Systems
Heating Systems
Refrigerators
Freezers
Hoods
Ranges/Ovens/Cooktops
Microwaves
Dishwashers
Disposals
Washers
Dryers
Water Heaters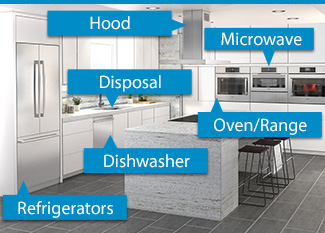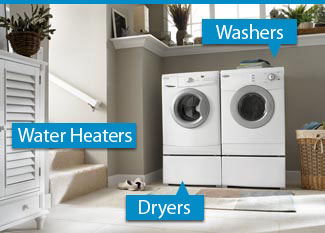 Heating & Cooling Systems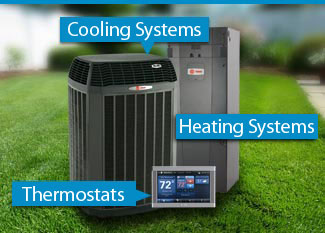 GOLD & SILVER
Home Service Warranties
Learn about Home-Tech's Home Service Warranties in our videos.
View and download our brochures.
See how a Home Service Warranty pays for itself!
Buying Your First Home
Buying your first home is always both exciting and pressure filled. Finding the right home with trustworthy major equipment can be difficult. Sometimes the home you love has older equipment and you worry about expensive repairs. They can devastate your budget.
After, all you've saved all you have just to buy your first home. A Home Service Warranty with Home-Tech protects your budget. There is no service call fee or parts or labor charges on covered equipment when there is a breakdown! With a Home Warranty in place, you can be relaxed and go to the closing table knowing that your budget will be okay.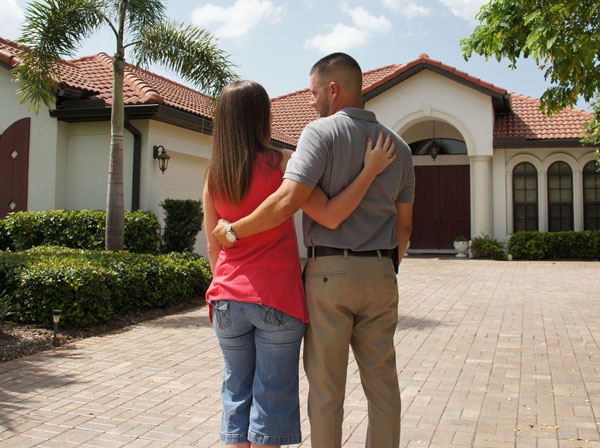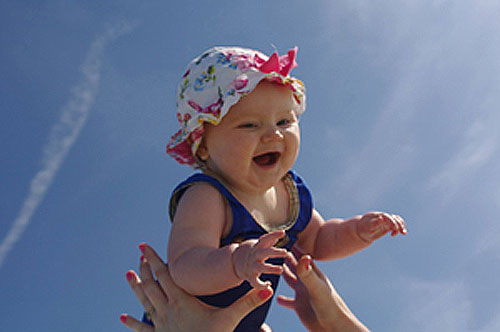 First Child On The Way
There can be a lot to worry about when you are expecting your first baby.  It's expensive, so your budget can be tight. The last thing you need at a time like this is expensive repair bills! A Home Service Warranty is paid for annually so you know exactly how much you are going to pay and how to budget for it.
If you experience the worst case scenario, your AC compressor breaking down, you will not be stuck having to cough up an estimated $1300. That's only one example of a costly repair. There are so many more you can avoid with a Home Warranty. You don't have to worry about caring for the major equipment in your home. You can focus on caring for your new baby!
Sudden Career Changes
Sometimes unpredictable things happen quickly. You have a job change and need to relocate now! Having a home warranty is only going to make selling your home easier. A listing with a Home-Tech Home Service Warranty is viewed very favorably in Southwest Florida's real estate market. Interested buyers will not have any worries about the major equipment in the home. Your Home Warranty can even attract Buyers and more showings. And it is easily transferred to the new homeowner at the closing time,  giving them the same gift of peace of mind that you enjoyed.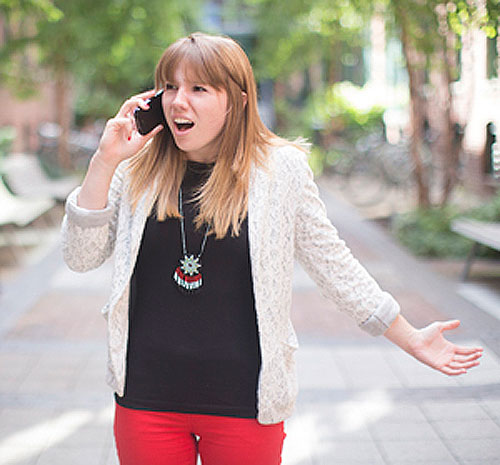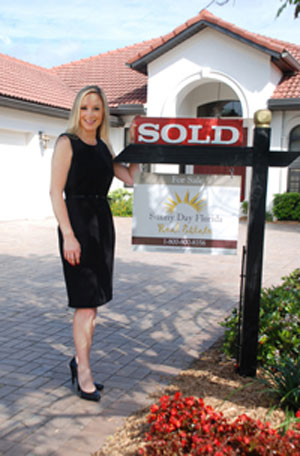 Investing in Property or Becoming a Property Manager
There comes a time in life when things are going well. You are experiencing success and you want to branch out. Investing in other homes as rental properties can be a fantastic way to secure more income. Unfortunately, there are a lot of headaches that come with being a Landlord. There can be constant repair bills, frustrated tenants, and time-consuming issues. Who do you call? Who can you trust? How many contractors do you have to have programmed into your phone?
With a Home-Tech GOLD Home Service Warranty, you only make one call. There is NO CHARGE for a service call. There is NO CHARGE for parts and labor on covered repairs. Renters have frequent plumbing problems and we even have a Plumbing and Electrical Option to make that part easier too. At this time in your life, it's best to let one experienced company of professionals help you.
Your Child Is Buying A Home
Your child, closing on their first home, is a red letter day! As a parent you are invested in your child having a successful future! And, yippee . . .  they don't live with you anymore! The last thing you want is for something to go terribly wrong!  A home Service warranty from Home-Tech makes a great gift and will bring you and your child peace of mind. You won't be receiving calls in the middle of the night – "Dad, why's my house so hot? I think my AC is broken." They can call Home-Tech instead and it will all be taken care of.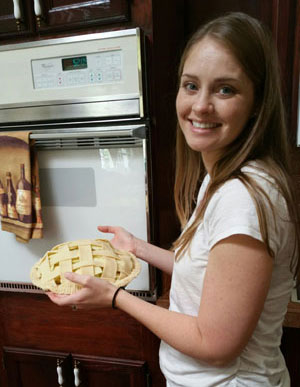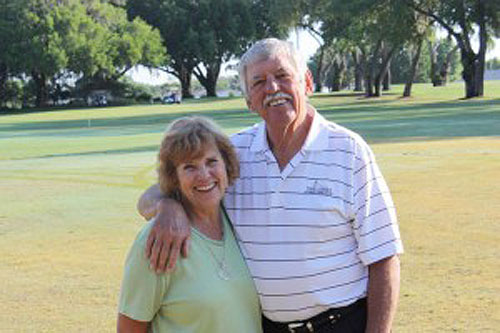 Time to Downsize
Many of our Members have moved to Southwest Florida to live a more simple life and are downsizing. They want to retire and play golf and go to the beach and have fun. The goal is to relax and keep life simple. There's nothing more simple, bringing more peace of mind than knowing that if you have an equipment failure, Home-Tech's professional technicians will be there for you. You know when they are coming because we give a 2-hour time frame. You can still squeeze in that round of golf. And if you have Home-Tech GOLD Service Agreement, you'll know how much a repair will cost on your covered equipment – NO CHARGE!
Home-Tech Members Love Their Home Service Warranties
Our Members agree that a Home-Tech Home Service Warranty offers true value.
I have been a Home-Tech customer for 5 years and feel their service plan is a great investment. With this plan I have peace of mind knowing if anything goes awry, Home-Tech has knowledgeable and considerate employees that will help even after-hours.
Home Service Warranty Questions?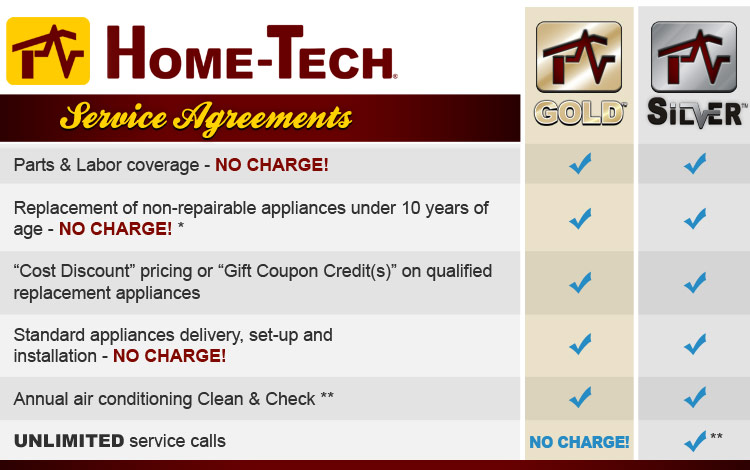 Additional Equipment May Be Added and Many Options are Available. *Excludes Water Heaters.**Minimum Service Call Fee Applies. Some Restrictions Apply. For promotional use only. Please see official Service Agreement for details.
If the stress of having to find a new refrigerator wasn't enough, now there's the worry of whether or not getting a warranty is worth the investment. With today's refrigerators going for a starting price of $500, it's certainly not a question to take likely. So,...
read more